CAD Designer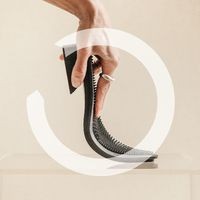 HILOS
Design
Portland, OR, USA
Posted on Friday, June 30, 2023
About HILOS:
HILOS is a Portland-based venture-backed startup on a mission to change the way the world makes. We've developed shoemaking techniques that leverage generative design and 3D printing for an on-demand, zero-waste future, blending powerful new technologies with an emerging design language for footwear that fuses digital and physical product creation.
Warning: This is a startup. We run fast and work hard. We embrace self-starters, constant learners, and ambitious darers. If you are someone that can wear multiple hats, cut through ambiguity, and constantly challenge yourself and grow, you will thrive here.
About the position:
As a Digital Designer at HILOS, you will blend footwear design and engineering while leveraging the latest in CAD and computational design. Our designers develop new textures, forms, and lattices for footwear design alongside new construction and assembly mechanisms, maturing these concepts into fully developed product lines launched into market with some of the most exclusive fashion brands. As a designer you work in a fast-paced digital manufacturing environment, with product iterations as quickly as every day. As part of a new supply chain for footwear you experience the printing and production process yourself on our own production floor to optimize your designs for manufacturing. This is a fast-paced, creative role that reports to the Director of Product on our PD team.
Role:
Develops CAD designs of new footwear lines for HILOS and our partner brands
Designs and develops new textures, forms, and lattices for our product portfolio
Optimizes designs for industrialized additive manufacturing and shoemaking
Participates in creative explorations of new assembly mechanisms for shoemaking
Ideal candidate will have:
• Strong experience across both B-rep (Rhino, Grasshopper, OnShape, Solidworks) and F-rep (nTopology) based modeling
• Familiarity with 3D printing, design for manufacturing, and product engineering
• Knowledge of footwear design and shoemaking
This is a full-time in-person role in Portland, Oregon. HILOS will not compensate relocation costs.